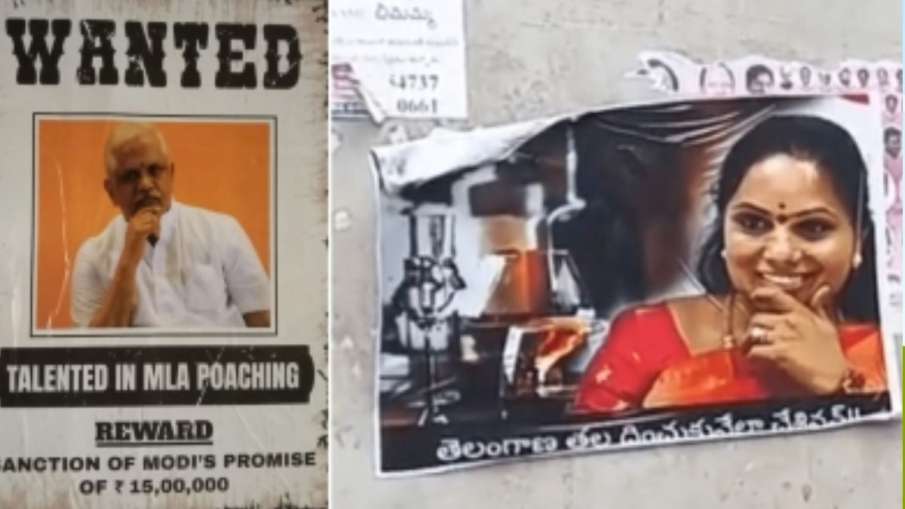 New posters surfaced in Hyderabad on Sunday between Telangana's ruling BRS and the opposition BJP, in which Chief Minister K. Chandrasekhar Rao's daughter K. Kavita has been shown as a culprit in the Delhi Excise Policy scam case. The posters target CM KCR, his son KTR, Kavita and other family members. A wall poster with pictures of KCR, KTR, Kavita, Harish Rao looks like a movie poster. It has been titled as 'Kalvakuntala Donglamutha' (Kalvakuntala gang of thieves). The poster reads: 'Story, Screenplay, Dialogues and Direction by KCR'.
BL Santosh shown as a criminal in the poster
Another poster carries a picture of Kavita with liquor bottles and comments about her alleged involvement in the case. These posters of the BJP are apparently in response to a poster put up by Bharat Rashtra Samithi (BRS) supporters a few days ago, in which BJP national general secretary B.L. Santosh is portrayed as a criminal and Prime Minister Narendra Modi is targeted for promising Rs 15 lakh. Posters put up in different parts of the city read, "Talented in horse-trading of MLAs. It also announces a 'reward' and reads 'Modi's promise of Rs 15,00,000 accepted'."
BRS supporters put up posters last week when he appeared before ED
The posters surfaced ahead of the second round of questioning of Kavita by the ED in Delhi on Thursday. However, she did not appear before the agency citing hearing by the Supreme Court on her plea challenging the summons. BRS leaders alleged that Santosh ran away from the probe into the horse-trading case by not appearing before the Special Investigation Team (SIT). BRS supporters also put up posters last week when Kavita appeared before the ED for the first time. Through the posters, the BRS tried to show how the BJP government at the Center used 'red detergent' to clean the defectors.
Hashtag 'Bye Bye Modi'
The posters carried photographs of Union Minister Jyotiraditya Scindia and Assam Chief Minister Himanta Biswa Sarma, who faced corruption charges before switching from the Congress to the BJP. With the hashtag 'Bye Bye Modi', the posters show how 'chhaap detergent' has painted saffron to tainted politicians. The posters also had a picture of Kavita before and after the raid, with the catchline 'True Colors Never Fade' written on them. Hitting back at the BRS, the BJP had also put up posters and hoardings targeting the ruling party over defection.
(Visited 2 times, 1 visits today)