British Home Secretary Soella Braverman arrived in Rwanda on Saturday to discuss an agreement under which the east African country would accept… immigrants who arrive in Britain illegally.
The British government wants to send tens of thousands of migrants to Rwanda as part of a 120 million pound ($146 million) deal reached last year.
No deportations have yet taken place, and activists are challenging the legality of this policy in court. Many charities say the proposal is costly and impractical, and would disadvantage thousands of genuine refugees who have little means to claim asylum in Britain without entering the country.
British government data indicates that more than 45,000 people entered Britain last year by crossing the English Channel in small boats from France, most of them young men from Albania, Afghanistan, Iran and Iraq.
Braverman met Rwandan Foreign Minister Vincent Perotta on Saturday and told reporters in Kigali that she had agreed to additional support for migrants who are being sent to Rwanda.
"Many countries around the world are facing unprecedented numbers of illegal immigrants, and I sincerely believe that this world-leading partnership is humane, compassionate, just and balanced," Braverman said at a press conference with Perotta.
Perotta said the proposals "provide better opportunities for migrants and Rwandans alike" and would help achieve the British government's goal of dismantling human trafficking networks.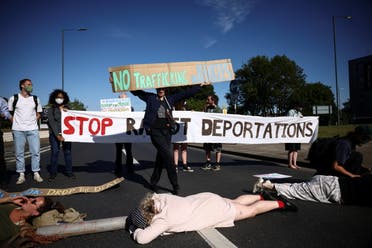 In June 2022, a road was blocked in front of Heathrow Airport to prevent the deportation of migrants to Rwanda
Braverman is expected to meet Rwandan President Paul Kagame on Sunday.
Britain's Home Office said in a statement on Saturday that Rwanda now agrees to accept "all categories of people who transit through safe countries and undertake illegal and dangerous journeys to the UK".
"Anyone who comes to the UK illegally – and cannot be repatriated – He would be a candidate for transfer to Rwanda".
The partnership was announced in April 2022 but the first deportation flight was banned by order of the European Court of Human Rights.
The High Court in London then ruled the measure legal last December, but opponents are seeking to appeal the ruling in April and it may be referred to the British High Court later in the year.
In this context, Braverman said, "I will not preempt the court's decision, but if we succeed, it will be our perception Implementation of the basis of our agreement as soon as possible".
Prime Minister Rishi Sunak says finding a solution to the issue of illegal immigration is one of his top priorities for 2023. Britain spends more than £2 billion a year absorbing migrants, and has floated a $95 million contract to take them to countries like Rwanda instead.
(Visited 4 times, 1 visits today)