French riot police clashed with protesters Friday night in Paris as a fresh demonstration took place against the government's plans to raise the country's retirement age.
Police used tear gas to deal with crowd disturbances, while demonstrators gathered on the Place de la Concorde in Paris near the parliament building, according to Reuters.
special procedure
It is reported that Prime Minister Elizabeth Bourne used a special procedure to pass a pension bill in the National Assembly (the lower house of Parliament), which is facing popular rejection, without a vote on Thursday, prompting boos and calls for her to resign in chaotic scenes that rarely occur in Parliament. French.
This step will ensure the adoption of the draft law after weeks of protests and heated debates. The bill raises the age the retirement Two years to 64, which the government says is necessary to ensure the pension system is protected from bankruptcy.
But it also shows that President Emmanuel Macron and his government failed to secure a majority in parliament, in a blow to the centrist president and his ability to win support from other parties for future reforms.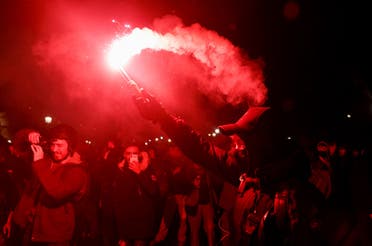 From the Place de la Concorde in Paris, Friday (Reuters)
Suspension of the meeting for two minutes
Bourne was booed and jeered by parliamentarians as it arrived in the National Assembly to announce that it would invoke Article 49.3 of the Constitution, which allows the reform measure to be passed without a vote.
The session was suspended for two minutes after left-wing lawmakers prevented Bourne from speaking. Some carried banners that read: "No to extension to 64 years."
You should resign
When the session resumed, Bourne began her speech, which was frequently interrupted by the same boos and cheers. "We cannot bet on the future of our pensions, this reform is necessary," she told MPs, as she explained why she used Article 49.3.
On the other hand, the leader of the far right, Marine Le Pen, said that the prime minister should resign, saying that "the last-minute resort to Article 49.3 is an unusual sign of weakness. She must go."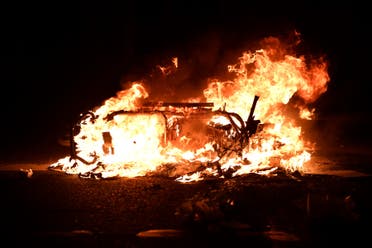 From Paris on Thursday evening (AFP)
Asked about a possible resignation in an interview with TV channel TF1, Born replied that she still had a lot of work to do, such as "the energy crisis, the climate crisis and the ongoing Ukraine war".
Another day of moving
In addition, the French unions called for another day of strikes and action against reform, Thursday, March 23rd.
The opposition parties said they would request a vote of no confidence in the government in the coming days, possibly Monday.
But that is unlikely to happen with expectations that he will win the support of most Tory lawmakers only if a surprise coalition of MPs from all sides, from the far left to the far right including Tories, is formed.
(Visited 2 times, 1 visits today)